Fine Quality Hardwood
About Us
Hardwood Veneer Corporation (HVC) was established with the intention of serving the world's hardwood market through the export of the finest quality hardwoods regionally available. HVC is a U.S.A. based timber harvesting company located in the Mid-West and Great Lakes States. We currently produce, but are not limited to: White Oak, Red Oak, Walnut, Cherry and Hard Maple.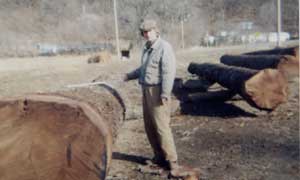 Our division, H&W International, specializes in the finest tropical hardwoods available.
Our Burmese Teak and Rosewoods are sought after worldwide, along with other species such as Asian Walnut and Iron Wood.
Mission Statement:

Our mission is to be available for timber shipments to all continents of the world, servicing our customers with the production and exportatio of the finest hardwood. We strive for excellence, maintaining customer satisfaction at all costs.

With over 25 years experience, HVC has successfully upheld our mission while maintaining the delicate balance between preservation and one of nature's finest resources- - wood. In doing so, we have earned a respectable, reliable, and recognizeable name in the timber export community.